Most consumers assume that furniture warranties are supposed to protect them. That is not the case.
The primary purpose of a furniture warranty is actually to protect the retailer and manufacturer.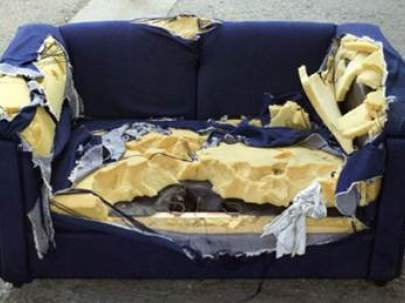 At the top of the warranty, large bold letters will spell out the time limit for each major part of the furniture. For example:
Frames – 10 years
Cushions – 5 years
Recliner or Sleeper Mechanisms – 3 years
Fabric – 1 year
Mattresses – 1 year
Much further down the document there will be exceptions and exclusions.
These exceptions and exclusions can make the bold print terms virtually meaningless.
Furniture warranties are honored only by the retailer you purchased from. Manufacturers will do nothing to help unless you first go through your local retailer.
Furniture warranties may seem, at first glance, to cover everything, at least for a specified amount of time.
In reality the warranty document will have numerous exceptions and exclusions. These usually cover the most common complaints that furniture purchasers will have.
For example cushions are almost always excluded from warranty protection. That may not be obvious. The bold print may promise a 5 year warranty term.
Further down in the warranty, however, is a clause stating that "Normal wear" is excluded.
If cushions sag or lose their shape that is considered "normal wear" no matter how soon it happens after you bought the furniture.
There have been thousands of complaints about "peeling" bonded leather fabrics. Some of these occur within the first year after purchase.
Most manufacturers explicitly exclude fabrics in their warranty coverage.
Retailers usually refuse to cover peeling bonded leather citing "normal use" or "customer abuse" as justification.
Even in extreme cases where bonded leather begins to peel in less than a year, many retailers will fight against replacing the furniture. (It usually cannot be repaired.)
There have been hundreds of lawsuits on this subject. Consumers rarely prevail.
Frames and foundations have far fewer problems than cushions and fabrics. Defects are also more difficult to prove.
Repairing a frame or foundation under warranty may require transportation of the sofa. This can be extremely expensive.
Customers are usually responsible for the transportation charges. Large furniture items can cost many hundreds of dollars to ship (each way.)
Returning furniture to a manufacturer for repairs can take several weeks (or months.)
Customers may also be charged hourly labor costs for warranty repairs.
Most furniture defects occur during shipping. This can be from the factory to the retailer or from the retailer to the customer.
Defects must be seen and documented while the delivery people are still in your home. Otherwise you may have great difficulty getting the warranty provisions honored.
Many retailers routinely "deluxe" their furniture before delivery from their warehouse to the customer.
"Deluxing" means that the retailer removes the furniture from the manufacturer's packaging, inspects it, repairs any noticeable defects and then blanket wraps the furniture for delivery to the home.
The reason for this practice is that a significant percentage of furniture arrives at the retailer's warehouse already damaged. Or it is damaged in the warehouse before leaving.
Repairs are far less expensive when they are made before the furniture reaches the customer's home.
Customers sometimes pick up furniture at the retailer's warehouse.
If something in one of the boxes you picked up is damaged some stores may deny responsibility.
Carefully read your receipt if you pick up furniture at a retailer's warehouse. There may be unexpected clauses.
For example the signed receipt may certify that you have accepted the furniture in good condition.
This allows the retailer to disclaim any responsibility for damages discovered when you open the sealed boxes in your home.
Warranty claims must first be made through the retailer. Manufacturers will not do anything unless the retailer has approved first.
Retailers will sometimes agree to make repairs if the cost is not too high. Demands for costly repairs or replacement will meet far more resistance.
Online retailers may be easier to deal with. They are able to do returns more economically. They can also force the manufacturers to accept the bulk of the return costs.
Any warranty repairs or replacements for your furniture may take extensive periods of time.
Auto dealers may loan a car to you while yours is being repaired. There are no "loaner" pieces available for furniture customers.
A high percentage of furniture damage occurs during shipping. Filing damage claims against shipping firms is a long and frustrating process. It can take several months and rarely results in full compensation.
Bedding warranties are virtually useless. Almost anything that can go wrong with a mattress or foundation will be dismissed as "normal wear." Major defects like broken springs that might be covered are extremely rare.
Extended Warranty Plans
Furniture salespeople may make a strenuous effort to sell you an extended warranty. These plans are typically pitched as though they offer added protection and extend the retailer's warranty.
Extended furniture warranties are never a good idea. They invalidate the manufacturer's warranty and are loaded with exclusions.
Extended warranties are third party insurance contracts from financial companies.
If the company backing the extended warranty goes out of business you lose your coverage. There are many cases of extended warranty companies that have gone out of business. Customers are left with no protection.
Extended warranty companies subcontract furniture repair services. Contracts are usually awarded to 3rd party repair services.
These may have bad reputations or be inconveniently located. They have no relationship or agreement with the furniture manufacturer. The contracts are often awarded to the lowest bidder.
Extended warranty plans generally end up costing anywhere from $100 to 6% of the total cost of furniture. They are extremely lucrative to the store. Salespeople usually receive a very high commission for selling these plans.
-Reprinted with permission from Jeff Frank's blog. Jeff is a 40 year furniture professional and owner of simplicitysofas.com.
His opinions do not always reflect those of Furniture Works, but we find his ideas & expertise always interesting and worth reading. For more useful articles, visit our blog.
By the way, it is for the reasons above that Furniture Works does not sell extended warranties. However, every new piece of furniture has a warranty from the wholesaler. If you want a copy for the item you've purchased, just ask.